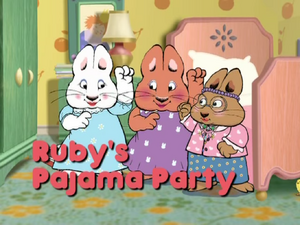 Ruby's Pajama Party
Season 2, Episode 22
Air date
October 16, 2003
Episode guide
Previous
Roger's Choice
Next
Baby Max
Ruby's Pajama Party is the 22nd episode of the second season of Max and Ruby.
Section heading
Ruby, Louise, and Valerie are having a pajama party. Max wants to come too, but it's a pajama party for girl bunnies only. Ruby eventually gives up and lets Max in.