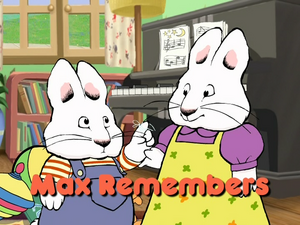 Max Remembers
is an episode of
Max & Ruby
from season two.
Max Remembers

Episode

Season 2, Episode 26

Previous Episode

Next Episode
Characters Present
Summary
Discovering a string tied around Max's finger, Ruby leaps to the assumption that he's supposed to remember something. She takes him through the whole house finding all sorts of things that Max should have done (and doing them for him) until discovering what the string was really for.
Trivia
A picture Max and Ruby, with their parents appear on a back wall.
This episode is on the DVD Playtime with Max and Ruby
Ad blocker interference detected!
Wikia is a free-to-use site that makes money from advertising. We have a modified experience for viewers using ad blockers

Wikia is not accessible if you've made further modifications. Remove the custom ad blocker rule(s) and the page will load as expected.