Max and Ruby is a Canadian animated series that debuted in 2002 (following a pilot episode in 2001). The show is aimed at a preschool audience. Created by children's book author & illustrator Rosemary Wells and based on the world of her Max and Ruby books, the episodes present stories about Max, a rambunctious and determined three-year-old bunny, and his big sister, Ruby, a patient, goal-oriented, sometimes restrictive seven-year-old bunny. The show presents an uplifting message for its audience by showing Max and Ruby playing together and exercising respect and love in resolving their conflicts. A pilot episode for this series aired in 2001 and the program appeared as a regular series on October 21, 2002-2003, Season Two was aired during 2003-2004, Season Three was aired in 2006-2007, a fourth season debuted on September 7, 2009-2010, and season 5 on 2011-2013 Max & Ruby celebrates the relationship between Ruby and her younger brother, Max. Season 6 aired on September 18 through December 1, 2016.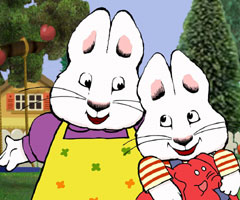 Ad blocker interference detected!
Wikia is a free-to-use site that makes money from advertising. We have a modified experience for viewers using ad blockers

Wikia is not accessible if you've made further modifications. Remove the custom ad blocker rule(s) and the page will load as expected.