This page is for the Bunny Scouts Club.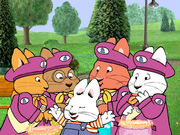 About the Club
Bunny Scouts is a local club which reoccurs multiple times through out the series. It is based off of Girl Scouts but with bunnies. Head of this unit is
Bunny Scout Leader
, not clarifying the name, and assistance leader is
Mrs. Huffington who
rarely showed up in Bunny Scout themed episodes. These girls earn merit badges to put on their sash of sports, smores, knots, first aid and more! Most of the time, Ruby wouldn't get her badge if it wasnt for Max's help. Most of the science projects are a team effort by Ruby and Louise, with the assistance of Max and sometimes Morris.
Members
Gallery